Carbon, Crime and Impunity in Indonesia's Plantation Sector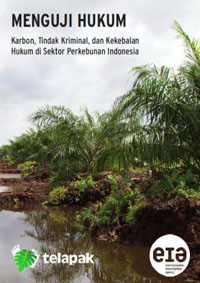 In March 2012 the Environmental Investigation Agency (EIA) and Telapak submitted a dossier of evidence to a range of authorities in Indonesia which detailed how an oil palm plantation company in Central Kalimantan had broken numerous laws governing land allocation, access to resources and environmental management.
The crimes committed by PT Suryamas Cipta Perkasa (PT SCP) have directly resulted in the conversion of more than 23,000 hectares (ha) of peatland and peat swamp forest, destroying the livelihoods of local communities, the habitat of hundreds of endangered orangutans, and generating millions of tonnes of carbon emissions.
The purpose of the dossier was to provide the authorities with sufficient evidence to prompt a criminal investigation, while notifying the Government of Indonesia (GoI) that EIA/Telapak would make public its response to evidence of clear-cut crime.
During meetings in May and June 2012 with the key recipients of the dossier, a worrying picture emerged of a bureaucracy struggling to enforce its own laws. Although the Government's investigation into PT SCP's activities is ongoing, the limited progress to date demonstrates that clear procedures to examine and prosecute blatant legal violations are not in place. Further, EIA/Telapak have encountered a continued lack of understanding of key environmental legislation and low levels of will at the kabupaten (regency) level to properly prosecute the case.
View and download Testing The Law
Karbon, Tindak Kriminal, dan Kekebalan Hukum di Sektor Perkebunan Indonesia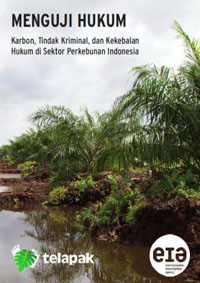 Pada Maret 2012, Environmental Investigation Agency (EIA) dan Telapak menyerahkan dokumen bukti kepada beberapa pihak berwenang di Indonesia, membeberkan bagaimana perusahaan perkebunan kelapa sawit di Kalimantan Tengah telah melanggar beberapa peraturan tata ruang, akses sumber daya dan pengelolaan lingkungan.
Kejahatan yang dilakukan oleh PT Suryamas Cipta Perkasa (PT SCP) berakibat pada konversi lebih dari 23,000 hektar lahan gambut dan hutan rawa gambut, menghancurkan sumber mata pencaharian masyarakat lokal, habitat dari ratusan orangutan yang terancam punah serta menghasilkan jutaan ton emisi karbon.
Dokumen tersebut dimaksudkan untuk menyediakan bukti pada pihak berwenang untuk melakukan investigasi. Saat menginformasikan ini pada pemerintah Indonesia, EIA/Telapak akan mempublikasikan respons mereka sebagai bukti dari kejahatan yang dilakukan secara terang-terangan.
Selama pertemuan dengan beberapa penerima dokumen pada Mei dan Juni 2012, muncul gambaran kecemasan akan perjuangan birokrasi untuk menegakkan hukum yang telah mereka buat. Meski investigasi atas kegiatan PT SCP yang dilakukan pemerintah sedang berjalan, perkembangan yang sangat lambat menunjukan bahwa prosedur untuk memeriksa dan mengadili pelanggaran hukum lingkungan di Indonesia masih lemah. Lebih jauh lagi, EIA/Telapak telah menemukan kurangnya pemahaman akan peraturan tentang lingkungan dan rendahnya niat di tingkat kabupaten untuk memeriksa kasus ini hingga tuntas.
Lihat dan unduh Menguji Hukum