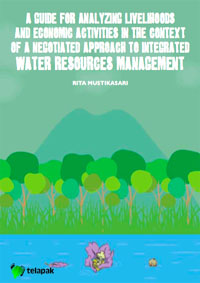 Livelihood Analysis and Activity Analysis (LA&AA) are important tools in the Negotiated Approach (NA) to Integrated Water Resources Management (IWRM). They collect and analyze information on water users in terms of people (households) and economic activities. The results of LA&AA aim to reflect the perceptions of water users about their water resources and their management. Through the LA&AA we can also understand what people's hope, considerations and alternatives are for what the government has done.
This perception of the local water users is needed for a NA that aims to involve all users in a realistic and sustainable IWRM (preferably on the level of river basins). Well documented perceptions will contribute to a discussion in which all stakeholders either from government, private or other water users have an equal position. Different stakeholders will have their own perception of the available water resources in a given basin and the way they should be used. If all parties tightly hold to their own problem analysis, this would lead to traditional negotiations in which partners fight for an optimal share of water resources and strong and well informed partners use to have a competitive advantage.
A NA aims to facilitate a dialogue that is based on an equal sharing of available information and on a common understanding of problems among different stakeholders that use water resources in the same basin or other agencies that have interests in the basin's resources.
View and download A Guide for Analyzing Livelihoods and Economic Activities in the Context of a Negotiated Approach to Integrated Water Resources Management