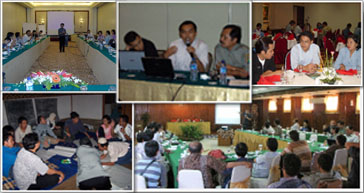 All campaign activities by Telapak intend to actualize good governing management and to ensure implementation of policies that support sustainable and fair management of nature resources. Telapak do the policy advocacy in campaign process based on fact that collected from investigative research on field. The target of advocacy is the policy makers and other parties that can influence the policy makers in every level, from local, national, and international.
All approach that Telapak use in doing policy advocacy is:
1. Workshop with several parties.
Telapak actively doing workshops and roundtable meetings with interested parties in smanagement of natural resources issue, especially civilians and indigenous people. The results of "lokakarya" is aspirations and recommendations from civilians and then continued with lobbying to regulators. Telapak believes that informations transparency and civilians involvement in process of policy making is important to actualize good governing management.
2. Political lobbying
Telapak also actively doing political lobby to strategic parties that have authorities in policy-making and regulator also others party that can influence the process of policy making. Political lobbying is done in every level, from regional, national, and international.
3. Legal drafting
To ensure the aspirations from civilians adopted in policy that government made, Telapak also involve in policy making and also public consultation in making policy.
4. Take part in several strategic forums in nature resources sectors and also participate in national and international forums which related to several issue that we working on.
Several example of Telapak involvement in policy advocacy are:
Framing of Ministerial Regulation No. 38/2009 on the Standards and Guidelines for Performance Assessment of Forest Management and Sustainable Production of Timber Legality Verification
Framing Laws no. 27/2007 on The Management of Coastal Zones and Small Islands
Member of Negotiation Team on Treaty Indonesia-EU Cooperation in the handling of illegal logging and illegal timber trade
Member of National Forestry Board
Member of National Water Resource Board
Member of Working Group on the Implementation Monitoring and Evaluation System Verification Legalit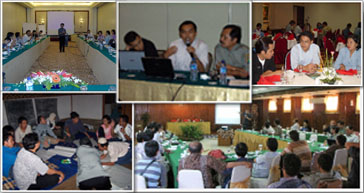 Pada dasarnya seluruh kegiatan kampanye Telapak bertujuan untuk mewujudkan tata kelola pemerintahan yang baik serta memastikan ada dan dilaksanakannya kebijakan-kebijakan yang menunjang terwujudnya pengelolaan sumber daya hayati yang adil dan berkelanjutan. Telapak melakukan advokasi kebijakan dalam program kampanyenya yang berbasis pada fakta tak terbantah yang didapatkan di lapangan melalui riset investigatif. Sasaran advokasi adalah para pengambil keputusan maupun berbagai pihak yang dapat mempengaruhi para pengambil keputusan di berbagai tingkat, baik di tingkat lokal, nasional maupun internasional.
Berbagai pendekatan yang digunakan Telapak dalam melakukan advokasi kebijakan termasuk:
1. Lokakarya para pihak
Telapak secara aktif menyelenggarakan berbagai lokakarya serta roundtable meeting yang melibatkan para pihak yang berkepentingan dalam isu-isu pengelolaan sumber daya alam, terutama masyarakat sipil dan masyarakat adat/lokal. Hasil-hasil lokakarya berupa aspirasi dan rekomendasi dari kelompok masyarakat sipil kemudian diteruskan dalam kegiatan lobby politik kepada para pengambil keputusan/regulator. Telapak percaya bahwa transparansi informasi dan pelibatan masyarakat sipil dalam proses-proses pengambilan keputusan merupakan hal penting dalam mewujkan tata kelola pemerintahan yang baik.
2. Lobby politik
Telapak juga secara aktif melakukan lobby politik yang ditujukan kepada pihak-pihak strategis yang berwenang mengambil keputusan dan membuat kebijakan (regulator) serta pihak-pihak lain yang dapat mempengaruhi proses-proses pengambilan keputusan. Lobi politik dilakukan di berbagai level tergantung kebutuhan, baik di level sub-nasional, nasional dan internasional.
3. Legal drafting
Untuk memastikan aspirasi dari masyarakat sipil diadopsi dalam kebijakan yang disusun oleh pemerintah, Telapak juga melibatkan diri dalam proses-proses penyusunan kebijakan, baik secara langsung sebagai bagian dari tim penyusun maupun dalam berbagai konsultasi publik penyusunan suatu kebijakan.
4. Berperan dalam beberapa forum strategis di sektor sumber daya alam serta berpartisipasi di berbagai forum nasional dan internasional terkait isu yang dikerjakan.
Beberapa contoh keterlibatan Telapak dalam advokasi kebijakan adalah:
Penyusunan Peraturan Menteri No. 38/2009 tentang Standar dan Pedoman Penilaian Kinerja Pengelolaan Hutan Produksi Lestari dan Verifikasi Legalitas Kayu
Penyusunan UU No. 27/2007 tentang Pengelolaan Wilayah Pesisir dan Pulau-Pulau Kecil
Anggota tim negosiasi Perjanjian Kerjasama Indonesia- Uni Eropa dalam penanganan illegal logging dan perdagangan kayu ilegal
Anggota Dewan Kehutanan Nasional
Anggota Dewan Sumber Daya Air Nasional
Anggota Kelompok Kerja Monitoring dan Evaluasi Pelaksanaan Sistem Verifikasi Legalitas Kayu